This piece is far superior in gold weight and weave than the 14 karat gold jewelry you would find in most department stores. The mold was custom-designed and made exclusively for Love Newfs , so you can be assured of having the exquisite detail only a Newf lover could appreciate, man or woman.

This exquisite piece has 8.2 grams of pure 14KT Solid Gold and .02 CTW full-cut Diamond eyes! Can be worn as a pendant or on a charm bracelet.

You can easily recognize the unconditional love of this breed by the heart on its belly.

The paws are flat underneath so you can stand as a tiny collectible, too!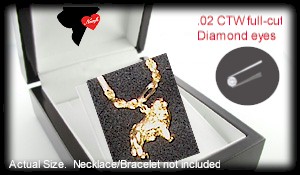 "The newfie piece is beautiful!!! The picture on the site is great, but "in person" it is gorgeous!!!!
Thank you!"...Tara K. (Illinois).